WordPress File Upload is a WordPress plugin.
With this plugin you, or other users, can upload files to your WordPress website from any page easily and securely, while it has many features and capabilities as shown below: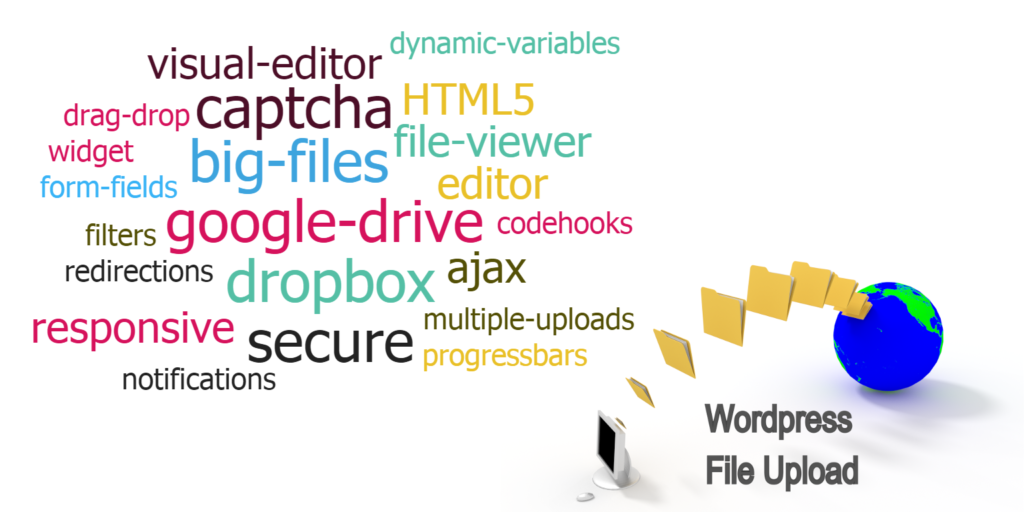 The plugins comes in two versions, professional and free. The professional version contains additional features as shown in the following comparison chart.
A screenshot of the plugin in its most simple form is shown below.
Simply put the shortcode [wordpress_file_upload] to the contents of any WordPress page and you will be able to upload files to any directory inside wp-contents of your WordPress site.
The features of the plugin in detail are:
It enables uploads of files from a page, post or sidebar (as a widget).
It captures video/screenshots from the webcam and uploads it.
It is responsive and uses the latest HTML5 technology, however it will also work with old browsers and mobile phones.
It supports additional form fields (like checkboxes, text fields, email fields, dropdown lists etc).
It can be used as a simple contact form to submit data (a selection of file can be optional).
It can upload files of any size, regardless of web server restrictions

(Professional version)

.
It can upload files to a Dropbox or Google Drive account

(Professional version)

.
It can upload files to an FTP server using ftp and secure ftp (sftp) protocols.
Multiple instances of the plugin are supported.
It allows selection and upload of many files at the same time

(Professional version)

.
Users can view, download or delete their uploaded files, either from the Dashboard, or from a page or post

(Professional version)

.
It supports drag and drop of files

(Professional version)

.
The very robust upload algorithm of the plugin includes internal auto-resuming capabilities that enable uploads to continue even when there are connection problems (e.g. connection interruptions), which is very useful when uploading very large files

(Professional version)

.
It includes an overall upload progress bar.
It includes details and progress bars for each file individually

(Professional version)

.
It includes the new

Google Recaptcha

as a security feature for protecting against robots

(Professional version)

.
It allows image files to be shown as image gallery from a page or post

(Professional version)

.
It supports localization.
Uploaded files can be added to Media, or be attached to the current page.
It is highly customizable with many (more than 50) options.
It produces notification messages and e-mails.
It supports categorization of uploads by selecting categories from a list.
It supports redirection to another url after successful upload.
It supports filters and actions before and after file upload as well as before email notifications, so that programmers can extend the plugin and make it cooperate with other plugins.
It supports logging of upload events or management of files, which can be viewed by admins through the Dashboard.
The shortcode can be edited very easily using the included visual editor, without requiring any knowledge about shortcodes.
It includes an Uploaded Files top-level menu item in the Dashboard, from where admins can view the uploaded files.
It includes a file browser for administrators in the Dashboard, from where they can manage the files.
It includes a css editor to better style the plugin using custom css

(Professional version)

.
It supports secure (https) websites.